Joey Leone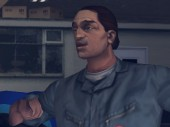 Joey leone é o filho de Salvatore Leone que não se da muito bem com o pai, Salvatore sempre quis que Joey arrumasse uma mulher e uma família mas Joey nunca quis, então Joey resolveu se afastar do pai e abrir uma oficina mecânica em Portland, mas mesmo assim ele ainda continuou sendo um membro da Familia Leone, Joey pede que Claude faça algumas missões contra lideres e instalações da Triards, Claude faz as missões, mas assim como aconteceu com a amizade de Claude com Luigi Goterelli, depois que Claude mata Salvatore a amizade de Claude e Joey se acaba. e Claude passa a ter a cabeça procurada em quase toda Portland.
| | Grand Theft Auto 3 |
| --- | --- |
| Personagens | Claude Speed, Salvatore Leone, Toni Cipriani, Donald Love, Catalina, Asuka kasen, Kenji Kasen, Luigi Goterelli, Joey Leone, 8-ball, Maria Latore, Ray Machowski |
| Gangues | Familia Leone, Cartel Colombiano, Triads, Southside Hoods, Los Diablos, Yakuza |
| Cidades | Portland, Stauton Island, Shorside Vale, Liberty City |
Ad blocker interference detected!
Wikia is a free-to-use site that makes money from advertising. We have a modified experience for viewers using ad blockers

Wikia is not accessible if you've made further modifications. Remove the custom ad blocker rule(s) and the page will load as expected.