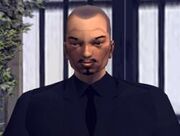 Kenji Kasen é um dos chefes da Yakuza de Liberty City, Kenji Kasen e o irmão de Asuka Kasen, Kenji Kasen é o dono do cassino de Liberty City, lugar onde Claude Speed faz varios trabalhos e consegue varias amizades, Kenji é assasinado por Claude Speed a mando de Donald Love durante uma das missões do jogo.
| | Grand Theft Auto 3 |
| --- | --- |
| Personagens | Claude Speed, Salvatore Leone, Toni Cipriani, Donald Love, Catalina, Asuka kasen, Kenji Kasen, Luigi Goterelli, Joey Leone, 8-ball, Maria Latore, Ray Machowski |
| Gangues | Familia Leone, Cartel Colombiano, Triads, Southside Hoods, Los Diablos, Yakuza |
| Cidades | Portland, Stauton Island, Shorside Vale, Liberty City |
Ad blocker interference detected!
Wikia is a free-to-use site that makes money from advertising. We have a modified experience for viewers using ad blockers

Wikia is not accessible if you've made further modifications. Remove the custom ad blocker rule(s) and the page will load as expected.