Maria Latore
Edit
Maria Latore era uma funcionaria do Caligula's Palace, Cassino onde conheceu Salvatore Leone, um dos socios do mesmo. Maria Latore faz participações em varios jogos da serie Grand theft Auto, como os acontecimentos de Grand theft Auto San andreas aconteceram primeiro, nos iremos começar por este jogo.
1992 (Gta San Andreas)
Edit
Maria era uma funcionaria do Cassino Caligula's, onde ela conheceu seu marido Salvatore Leone, maria ficava dando em cima de Salvatore Leone para conseguir dinheiro. os dois se casam e se mudam para Liberty City, onde Maria conhece Claude Speed, seu futuro namorado.
2001 (GTA 3)
Edit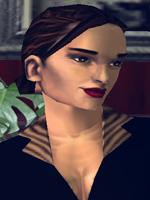 Maria
se torna esposa de
Salvatore Leone
, que chega a ser o maior Mafioso de
Portland
e de
Liberty City
, porem depois de conhecer
Claude Speed
, o novo funcionario de
Salvatore
ela se apaixona por ele. Quando
Salvatore
resolve dar um fim em
Claude
, Maria avisa
Claude
sobre a armadilha e os dois fogem para a outra cidade. Depois de algum tempo, Maria é sequestrada por
Catalina
, que pede $500.000 de resgate para
Claude
, que paga o resgate, salva
Maria
e mata
Catalina
.
| | Grand Theft Auto 3 |
| --- | --- |
| Personagens | Claude Speed, Salvatore Leone, Toni Cipriani, Donald Love, Catalina, Asuka kasen, Kenji Kasen, Luigi Goterelli, Joey Leone, 8-ball, Maria Latore, Ray Machowski |
| Gangues | Familia Leone, Cartel Colombiano, Triads, Southside Hoods, Los Diablos, Yakuza |
| Cidades | Portland, Stauton Island, Shorside Vale, Liberty City |
Ad blocker interference detected!
Wikia is a free-to-use site that makes money from advertising. We have a modified experience for viewers using ad blockers

Wikia is not accessible if you've made further modifications. Remove the custom ad blocker rule(s) and the page will load as expected.