Ray Machowski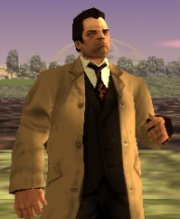 Ray é um policial corrupto, que tem associações com Asuka e Kenji, os lideres da YakuzaLC de Liberty City, Ray era amigo de Toni Cipriani, Mas depois que Ray tenta prender Toni Cipriani|Toni]] em uma ação 'estranha', Ray faz novos contatos e amizades, ate que conhece Asuka Kasen, que depois de um tempo indica os serviços de Claude Speed para Ray, que coloca Claude nas maiores furadas possiveis, como Matar uma testemunha, Explodir um prédio e ate passar por um bloqueio da Swat, Claude faz quase todos os serviços que Ray havia planejado, mas apos Ray receber uma ligação avisando que a Swat havia armado uma emboscada para prender-lo, Ray pede para Claude que lhe faça um ultimo favor: Levar ele em segurança ate o Aeroporto Francis International ,ha tempo de Ray pegar um avião e sair da cidade, Claude faz isto e Ray mas antes de entrar no aeroporto Ray diz que vai para Vice City, onde ele teria alguns contatos e tentaria iniciar uma nova vida. Ray consegue embarcar no avião, Mas antes de ir embora, Ray envia um Sms para Claude informando-lhe a localização de seus "suprimentos de emergência", e os da para Claude, Claude vai ate o local indicado e pega as armas de alto poder de fogo e um carro blindado de Ray.
| | Grand Theft Auto 3 |
| --- | --- |
| Personagens | Claude Speed, Salvatore Leone, Toni Cipriani, Donald Love, Catalina, Asuka kasen, Kenji Kasen, Luigi Goterelli, Joey Leone, 8-ball, Maria Latore, Ray Machowski |
| Gangues | Familia Leone, Cartel Colombiano, Triads, Southside Hoods, Los Diablos, Yakuza |
| Cidades | Portland, Stauton Island, Shorside Vale, Liberty City |
Ad blocker interference detected!
Wikia is a free-to-use site that makes money from advertising. We have a modified experience for viewers using ad blockers

Wikia is not accessible if you've made further modifications. Remove the custom ad blocker rule(s) and the page will load as expected.