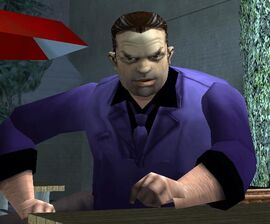 == Toni Cipriani ==
Toni cipriani é um membro da Familia Leone, amigo de Salvatore Leone. Toni Cipriani faz parte da historia de Grand Theft Auto Liberty City Stories e de Grand Theft Auto 3, como os acontecimentos de LCS acontecem antes de GTA 3, vamos falar deles primeiro.
Liberty City Stories
Edit
Apos ficar alguns anos de 'ferias', Antonio resolve voltar para a Familia Leone, porem como Antonio Cipriani havia passado muito tempo fora, Salvatore colocou outra pessoa em seu lugar, Antonio se ve obrigado a trabalhar para Vincenzo Cilli, um gangster local. Porem Antonio não suporta Vincenzo Cilli Por muito tempo e acaba matando-o. apos matar varios lideres de Familias, Antonio Cipriani e convidado a voltar para a Familia Leone por Salvatore Leone .
Grand Theft Auto 3
Edit
Assim que o filho de Salvatore Leone, Joey Leone apresenta Claude Speed a Toni Cipriani, Cipriani convida Claude para fazer alguns serviços para ele, onde os principais serviços são eliminar os Triards e seus negocios.
| | Grand Theft Auto 3 |
| --- | --- |
| Personagens | Claude Speed, Salvatore Leone, Toni Cipriani, Donald Love, Catalina, Asuka kasen, Kenji Kasen, Luigi Goterelli, Joey Leone, 8-ball, Maria Latore, Ray Machowski |
| Gangues | Familia Leone, Cartel Colombiano, Triads, Southside Hoods, Los Diablos, Yakuza |
| Cidades | Portland, Stauton Island, Shorside Vale, Liberty City |
Ad blocker interference detected!
Wikia is a free-to-use site that makes money from advertising. We have a modified experience for viewers using ad blockers

Wikia is not accessible if you've made further modifications. Remove the custom ad blocker rule(s) and the page will load as expected.